What Are Concrete Pump Truck Renting Rates?
Posted On: 22/11/2023 | Posted by: Haomei Concrete Pumps
With the continuous expansion of the concrete machinery industry, more and more concrete boom pumps are purchases and rented. The market is in large demand for boom pump trucks for super high-rise buildings. Therefore, concrete pump truck rental rates are very high.
Those with a boom length of more than 50 meters can be called "long boom pump trucks". The advantage of long boom pump trucks is that the construction range is larger, which reduces the number of pump moves during the construction process and also reduces the operators' working load.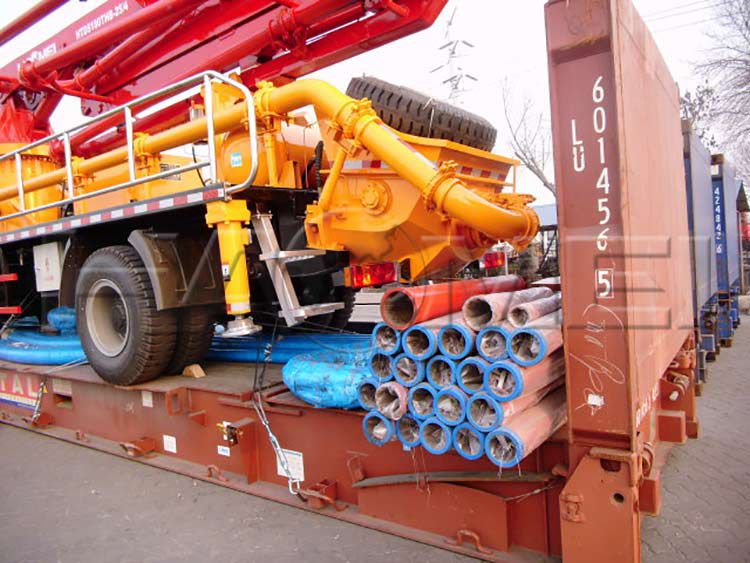 It consists of two parts: chassis and upper body. The chassis also has many specifications. The chassis specifications currently available for customers to choose from are 4X2, 6X2, 8X2 and 10X4. The chassis engine provides power for the work and travel of the boom concrete pump truck. Therefore, the performance of the chassis engine directly affects the performance of the boom concrete pump truck. At present, the commonly used chassis in China is Volvo, Mercedes-Benz and Isuzu chassis.
The upper body also consists of two parts, namely the fixed steering seat and the boom system. Our boom system is also very similar to the chassis, and different specifications need to be selected according to different situations. The current classifications are "R type", "M type" and "comprehensive type". These types of boom systems can be said to have their own advantages and disadvantages. In fact, during actual use, the specifications of the chassis and boom system can be assembled at will, as long as they can meet the needs of the work, the safety of use, and your own usage preferences.
The operation of the concrete pump trucks is often limited by the upper space, which requires the lowest top height when the boom is unfolded. Booms with less than 4 sections are generally folded in a single R or Z shape. Due to space constraints, booms with more than 5 sections generally use the RZ combination folding type to realize the expansion and contraction of the boom.
The longer the boom, the higher it can be transported, and the greater the pouring coverage and height. The arm length of the pump truck depends on the model of your pump truck. If you lengthen the delivery arm at will, the delivery pressure is likely to be insufficient, and the concrete will not be pumped up. If it is lengthened too much, it will become unstable. If you like to buy a concrete boom pump to expand construction business, Haomei Machinery has many choices for you like isuzu concrete pump truck.
Original source: https://www.concrete-pump-cn.com/a/what-are-concrete-pump-truck-renting-rates.html
Tags: concrete boom pump,
Previous: China Truck Mounted Line Pumps for Sale
Next: How to Safely Operate Cement Pump Truck for Sale