Stationary Concrete Line Pump for Sale
Posted On: 22/08/2023 | Posted by: Haomei Concrete Pumps
The concrete line pump truck for sale is a special machine for conveying concrete and pouring concrete on site. It is equipped with a special pipeline, which can transport concrete along the pipeline to the pouring site. The speed and delivery height of the pumped concrete are determined by the parameters of the main oil pump, and the horizontal distance is determined by the length of the pipes.
Generally, ordinary concrete can be pumped to a distance of 1000 meters. Compared with the concrete mixing pump, it can't mix concrete, but only has the function of pumping. It is generally used in urban construction projects to pump ready-mixed commercial concrete, and it is used in conjunction with concrete mixer truck.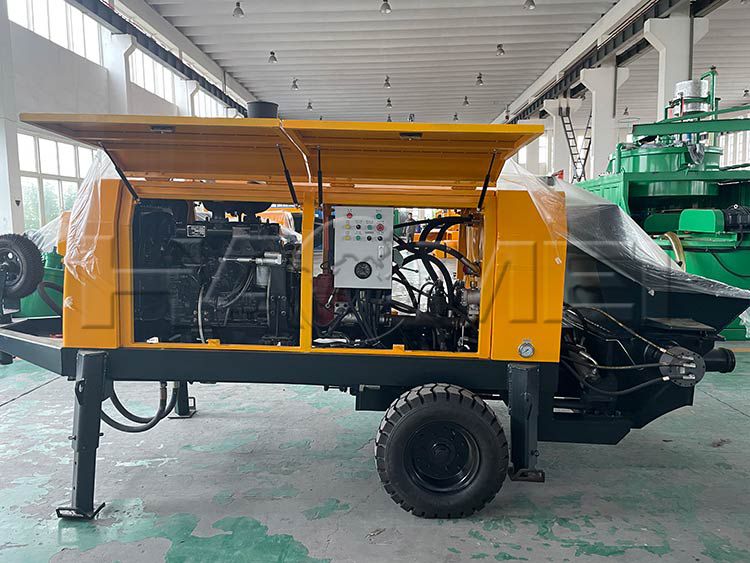 In addition to the electric concrete pump, the line pump for sale also has a diesel engine version. At present, it is very difficult to connect to the power supply in many areas, especially for some special projects such as slope protection or field projects. In this case, a diesel engine is required. Its pumping relies on diesel engine power, which is much more convenient.
In order to have a smooth pumping distance, the flow path of the distribution valve must be short and smooth, with little change in cross-section and shape. And it also should have strong adaptability to concrete with different slump. The advanced and smooth S-pipe valve reversing can meet the transportation of commercial concrete, and it is not easy to block the pipe. The outlet pressure is high, which can meet the transportation requirements of high-rise buildings and long-distance construction.
Haomei Machinery's stationary concrete pump for sale uses high-quality raw materials. Whether it is the frame, the shell or other parts, we have taken many effective measures to ensure that the pump body is stable and firm, reducing the noise of use, and ensuring that it can withstand various harsh conditions such as rain, snow and low temperature.
We only cooperate with high-quality parts suppliers, and constantly pass practical tests to improve product design and product quality to ensure that our products are more economical, durable and have a longer service life.
Original source: https://www.concrete-pump-cn.com/a/stationary-concrete-line-pump-for-sale.html
Tags: line pump for sale,
Previous: How to Choose A 32m RMC Boom Pump
Next: How to Mix the Pumped Concrete of The Trailer Concrete Mixer Pump