How to Choose A 32m RMC Boom Pump
Posted On: 15/08/2023 | Posted by: Haomei Concrete Pumps
There are generally 7 specifications of the concrete pump truck according to the boom lengths, which are 21 meters, 24 meters, 28 meters, 30 meters, 33 meters, 38 meters and 35 meters. Different pump trucks will be designed according to the requirements of chassis length, width and height, mixer efficiency requirements, boom length requirements, etc.
28m or 32m concrete pump has enough boom length to pump concrete to the height of 4 floors. 32m concrete pump truck has an improved power device on the basis of the 28-meter concrete pump truck and the addition of a diesel-electric dual power system makes the boom pump suitable for construction in remote rural areas or in the field without electricity.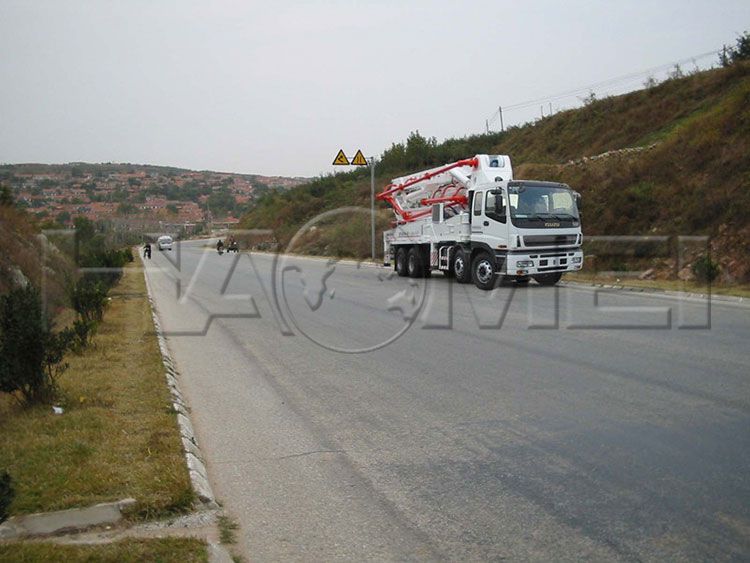 How to choose a concrete boom pump
1. The power system of the ready mix concrete pump so it is necessary to consider whether all hydraulic technology is advanced and the quality of hydraulic components. Because the power comes from the engine, in addition to the performance and quality of the engine, the performance, bearing capacity and quality of the pump chassis should also be considered.
2. In addition to the amount of concrete pouring, the type and structure of the building, construction technical requirements, site conditions and environment should also be considered. Usually the main performance parameters of the selected concrete pump truck should meet the construction requirements or be slightly larger.
3. Concrete pump trucks are flexible, and the higher the boom height, the greater the pouring height and material distribution radius, so high boom concrete pump trucks should be used as much as possible during construction.
4. The number of concrete boom pumps used in the construction business volume can be calculated according to the amount of concrete poured, the actual delivery volume of a single machine and the construction work time.
5. The rmc boom pump's performance should adhere to a high starting point when selecting models. Haomei ready mix concrete boom pump is designed according to the latest requirements and chooses the reliable parts from different famous suppliers.
6. The selection of concrete pump truck should be comprehensively considered according to the concrete engineering object, characteristics, maximum conveying distance, concrete pump form and specific conditions.
Original source: https://www.concrete-pump-cn.com/a/how-to-choose-a-32m-rmc-boom-pump.html
Tags: concrete boom pump,
Previous: What Are Features of Small Concrete Pump Truck
Next: Stationary Concrete Line Pump for Sale