What Is The Working Principle Of Concrete Pump Truck?
Posted On: 21/09/2016 | Posted by: Haomei Concrete Pumps
Concrete pump truck is on the truck chassis is modified, and it is the movement and power transmission devices are installed on the chassis, pumping and mixing device, cloth device and other auxiliary equipment.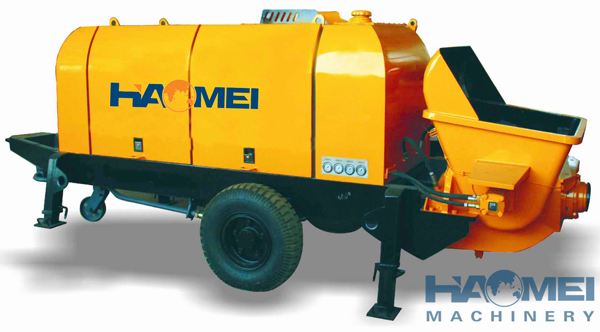 Concrete pump truck power by power transfer case of the engine power transmitted to the hydraulic pump group or rear axle, hydraulic pump driven piston driven concrete pump work.Placing boom and duct on the car, and then use pump concrete to a certain height and distance.
In addition to the concrete pump truck engine drive pump truck, also used to drive pumping, mixing mechanism and cloth device such as a job.The work device of the concrete pump truck each motivation comes from the car engine.In the concrete pump truck, car engine power through transmission to the transfer case, through the transfer case switch runnin the hydraulic pump or chassis rear axle.
As the instruction of a driver switch to pump, pneumatic solenoid valve control cylinder pushing on the transfer case fork, fork separation push switch gear to pumping position again, and cut off the power to the rear axle, is in a state of parking the car.On the other hand, the switch to the driving position.Now the control of the pump truck are implemented by remote control 2: by the boom, pump, hydraulic, support, electric control of five parts.
Original source: https://www.concrete-pump-cn.com/a/what-is-the-working-principle Of-concret.html
Tags: Concrete Pump Truck,
Previous: HaoMei Trailer Concrete Pump Operation
Next: Cement Pump Machine Safe Operation Rules And Details