The Boom Length of Small Concrete Pump Truck
Posted On: 06/12/2022 | Posted by: Haomei Concrete Pumps
The small concrete pump truck is a kind of concrete equipment that can use its own boom to pump concrete. Because of the built-in boom, the process of taking over and dismantling the pipe is omitted, which makes the construction process more streamlined and greatly reduces the intensity of the workers' construction. In addition, the small boom pump truck has a wide range of applications, not only for urban construction, but also for concrete construction in rural areas.
According to the height of the boom of the pump truck, the concrete pump truck can be divided into: short boom, long boom and super long boom. The boom height of 13-28meter is for the short boom concrete pump; 31-47 meter is for the the long boom concrete pump, 51-62 meter is for the super-long boom concrete truck.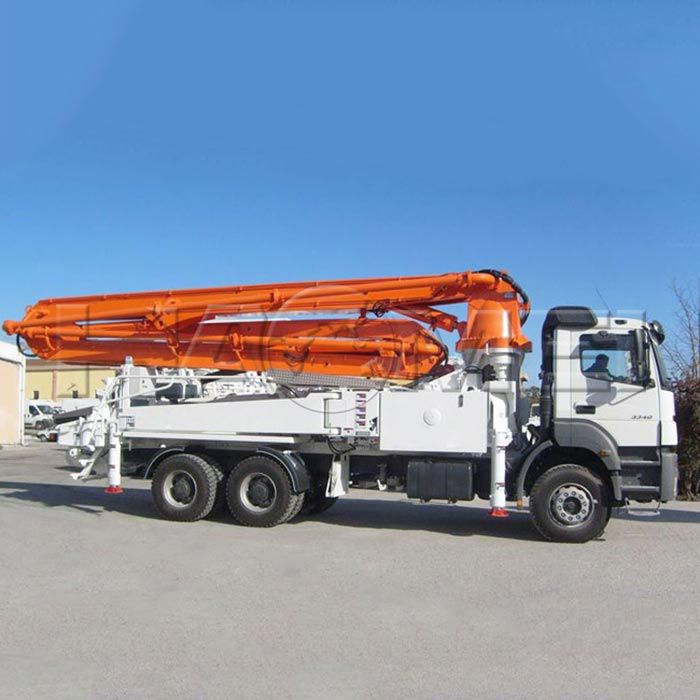 It is better to use a small concrete pump truck between 25 meters and 42 meters for concrete construction in rural areas. If the boom is too short, it is difficult to to meet the needs of rural construction; if it is too long, it will lead to waste of cost. In some narrow areas in rural areas, the too long boom is limited by the size of the space and is not easy to stretch. Therefore, it is necessary to choose the appropriate boom length of the small concrete pump truck for rural construction.
The boom frame and the master cylinder use a hydraulic system. However, different brands of pump trucks also have differences in hydraulic systems. A good hydraulic system can generate greater working pressure, and has the advantages of small conversion impact and easy control.
Different brands have different prices. This is due to the different production processes of major manufacturers and the different quality of boom pressure concrete pump, which directly affects the boom pressure concrete pump price. Usually, the price of large manufacturers is higher than that of small and medium-sized enterprises, and their corresponding service measures are also better.
However, there are also some small and medium-sized concrete boom pump manufacturers like Haomei Machinreiy that are very popular among users due to their excellent quality and reasonable price. Its main parts are of world-class brands, and the production technology is excellent, so the products sold have received good response.
Original source: https://www.concrete-pump-cn.com/a/the-boom-length-of-small-concrete-pump-truck.html
Tags: concrete boom pump,
Previous: Stationary Concrete Pump for Sale
Next: Diesel RMC Pump for Sale