Stationary Concrete Pump for Sale
Posted On: 22/11/2022 | Posted by: Haomei Concrete Pumps
The concrete pump trailer is a kind of stationary concrete pump for sale. It is used to pump concrete to the high-rise building. It only has the function of conveying. It is generally used in urban construction projects to pump the commercial concrete and is used in conjunction with concrete mixer trucks.
Concrete pumps can be divided into electric concrete pump and diesel concrete pump. In areas with normal power supply and construction sites, the power of the motor is better when it is stationary for a long time. The reason is that the cost of use is low. The power of the diesel engine is highly mobile and is not affected by the power supply. However, compared with the motor pump, the cost of use is slightly higher.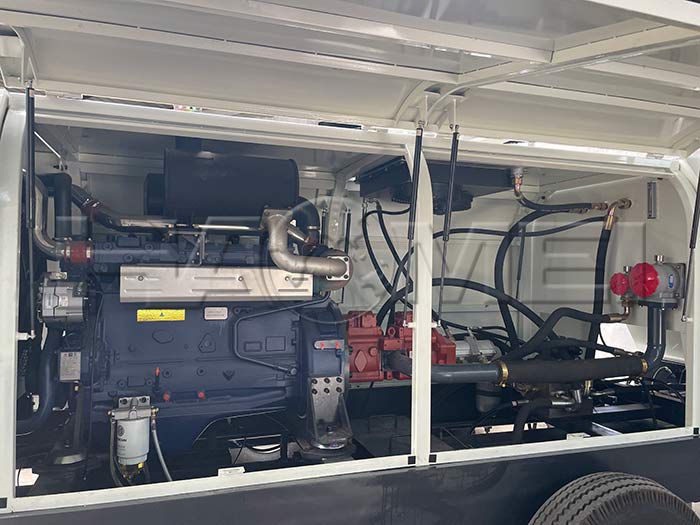 There are many factors that determine the pumping distance of the stationary concrete pump. The first is the maximum pumping pressure of the equipment, which directly determines the farthest pumping height and horizontal distance. For example, the maximum pumping pressure of the concrete trailer pump pumping C70 concrete to a height of 452 meters is 48Mpa.
Haomei ready mix concrete pump adopts S valve, which can meet the transportation of commercial concrete, and is not suitable for pipe blockage. The outlet pressure is high, and it can meet the transportation requirements of high-rise buildings and long-distance construction. The concrete pump is small in size and easy to move. The selected parking place should be a stable and hard ground.
The performance of the RMC pump is related to the model. When selecting the model, in addition to the amount of concrete pouring, the type and structure of the building, site conditions, construction technical requirements and surrounding environment should also be considered.
The main performance parameters of the concrete pump truck usually selected should be in line with the construction requirements or slightly larger. If the capacity is too large, the utilization rate will be low; if it is too small, it will not only fail to meet the construction requirements but also accelerate the loss of the concrete pump trailer. Welcome to leave message below to inquire RMC pump price.
Original source: https://www.concrete-pump-cn.com/a/stationary-concrete-pump-for-sale.html
Tags: stationary concrete pump,
Previous: What are Advantages of Small Concrete Pump For Sale
Next: The Boom Length of Small Concrete Pump Truck