Type:HZS180 portable concrete batch plant
Theoretical productivity(m³/h):180
Concrete mixer: MAO4500/3000
Belt Conveying Capacity(t/h): 650
Discharging height(M): 4.2 m
concrete batch plant is mainly composed by mixing host, material weighing system, material conveying system, material storage system, and control system. It mixes cement, sandstone, limestone, coal and other raw materials to make concrete which are widely used in the construction projects. Generally speaking, stationary batching plant is used in concrete engineering, all-sized of construction projects, water conservancy, bridges and tunnels for its high productivity, convenient operation and high working efficiency.
Concrete batch plant is characterized by high productivity to produce various kinds of concrete, such as plastic concrete, thick concrete and so on. Concrete batching plants are widely used in the large and medium-sized construction site, road and bridge engineering projects as well as concrete pre-production firms. As a concrete batch plant manufacturer, our company has batching plants for sale with competitive price and good performance.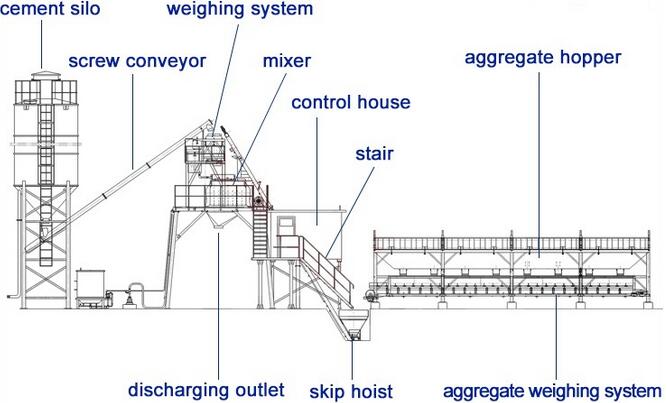 The component instruction of HZS180 portable concrete batch plant:
(1)Aggregate Batching Machine
The aggregate batching system of ready mix concrete machine include aggregate supply system, weighing system and electrical control system. The feeding device is driven by belt.The batching system is controlled by sensor.
(2)Mixing System
Concrete batching plants usually adopt JS series twin shaft concrete mixer as the main mixer. Twin shaft concrete mixer belongs to forced concrete mixer and has stronger mixing effect and higher mixing efficiency than self-falling concrete mixer. It can be used to mix hard-dry concrete and light aggregate concrete.
(3)Cement Silo
As a professional cement silo manufacturer, HAOMIE provides bolted type and welded type storage silo in various capacities and dimensions. Bolted cement silo with special design can minimize the transport cost.
(4)Electrical Weighing System
The electrical control system of concrete batch plant can control two sets of separate mixer, cement weighing, water weighing, cement weighing and a series of aggregate batching system. The aggregate batching system can automatic control the batching process, connected to high reliable PLC and industry computer.
(5) Control System
The PLC programmable controller can control the production process with high reliability and stability. It can control the unloading ingredients, mixing and automatic control of the whole process of the concrete. Moreover, It also can dynamic display the process of weighing and discharging.
(6)Screw Conveyor
The screw conveyor is full with a screw inside, and the screw can continually convey materiel.The equipment adopts originated patent feed port, it is easy to install.
Portable concrete batch plant (the capacity as 25m3/h, 35m3/h, 50m3/h, 60m3/h, 75m3/h, 90m3/h, 100m3/h, 120m3/h, 150m3/h,180m3/h)
The resource is from http://concrete-pump-cn.com,more technology problem or inquiry please contact company Email:info@haomei.biz