1. mobile type owned great unique configuration
2.That tandem unit centralize many tasks of collecting material, weighing, mixing, delivering and etc,
3.Human- computer interface is simple and clear, work is stable, whole mobile is perfectly
4. It is best model used in road, bridge, port, water and electricity and etc.projects.
5.when the Small manufacturing plant Mobile Concrete Batching Plant need to be moved to another construction site, just put the mixer down on the truck, then trailer the whole plant to move another construction site, which reduce the heavy job, like disassembling, installing, testing, and save the time and cost.
Small mobile concrete batching plant with running system is special construction concrete equipment designed independently by our company. It can be installed quickly on site. This batching plant integrate mixer, batching system, running system, feeding system, weighing system, cement silo, screw conveyor and all the necessary equipment into together, installing on a transport chassis.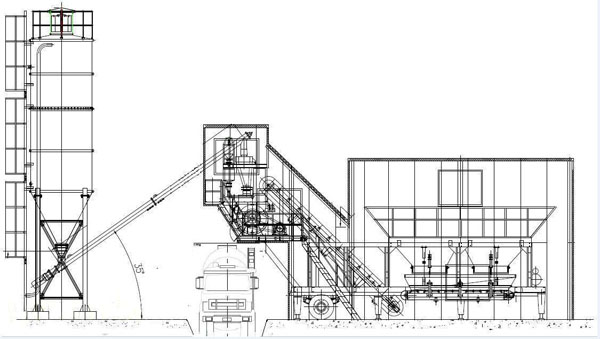 This can adopt various configurations:
1.Main structure :(Single,double) station ,(Single,double) building,vessel ,half- high tower type.
2.Main mixer:(new type) double-screw mixer,double -axle mixer.
3.Control system:(new type) double machine synchronous contronl type,classic control type
4.Aggregate conveye:(horizontal ,shape ,grooved shape ) belt to load material ,load material by skiphoist
5.Powder conveye:Screw conveye ,air conveye .wind groove conveye Material weighting ;single weighting,cumulative weighting .
6.Clean system:Bag type ,vibration type ,pulse type cleaner.
7.Air system :Main component adopt famous brand product .
8.Extra system
In brief construction of small mobile batching plant:
1.Horizontal twin-spiral mixer is designed for optimized mixing with high homogeneity with
a.
Long-termreliable life. It meets the requirment of various concrete prop-ortioning.
b.
Various modes such as JS1000D.JS1500D.JS2000D.JS3000D.JS4000D are avaliable. The
c
.Concrete mixing plant can be configured with producivity ranging from 50m/h to 240m/h onthe ground of single mixer.
d
.Suitable for ready-mix concrete supply of roads,bridges ,airports and other infrastructure construction.

2.Best mixing
a
.Expedite mixing even for high-psi concrete ,abso-lute powerful mixing.
b.
Even for high-grade concrete ,homogeneity will be the best upgrade for your concrete mixer.

3.High performance, low cost
With twin- spiral mixer is 15% moer than that with normal twin shaft mixer ,according to the outstand effiency of twin-spiral mixer.

4.Ubricationg syestem
a.
The auto- lubrication is empowered by the widely used in the project machinery centralized sustem of recognizable brands.
b
.The system delivers a reliably and succesively progressive oiling performance ,which in return ensure persistence and reliability of the shaft end sealing.
5.high -pressured washing device(optional)
High -presure washing device is 95% in efficency and could clean most slurry agglomerete and reduce labor cost.
High -presure washing device is 95% in efficency and could clean most slurry agglomerete and reduce labor cost.
Which kind of products we can supply ?
1,Concrete batching plant (the capacity as 25m3/h, 35m3/h, 50m3/h, 60m3/h, 75m3/h, 90m3/h, 100m3/h, 120m3/h, 150m3/h)
2,Mobile concrete batching plant(the capacity as 25m3/h, 35m3/h, 60m3/h, 75m3/h)
3,Twin shaft Concrete mixer (the capacity as 0.5m3, 0.75m3,1m3, 1.5m3, 2m3,3m3)
4,Concrete pump
5,concrete boom pump
6,Wheel loader
7,Concrete mixer truck
8.Asphalt batch plant.
If you have any interest or need can contact our company Email:info@haomei.biz