Concrete pump mixer has extensive application in a great number of engineering projects such as high-rise buildings, water conservancy, flyover, bridges and so on. Diesel cement mixer pump has unique advantages in the mixing and pumping of concrete in one machine, which totally combines the function of and diesel concrete mixer for sale and concrete pump, and it has high mixing quality and pumping efficiency, which saves lots of costs and time for investors.
According to the actual requirements of most of the domestic rural areas, rural-urban junction and medium and small cities and towns, our company specially studied and developed a new type of concrete pump with mixer. The concrete pump and mixer is a kind of new type construction equipment which combines the concrete mixing machine and concrete pumpingmachine.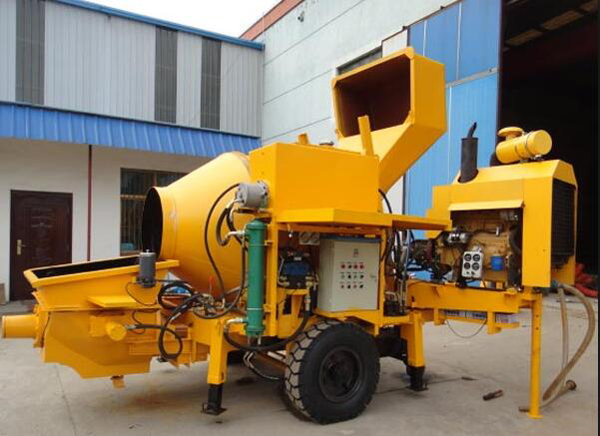 Pumping system of hydraulic pump concrete mixer:
1.Fully hydraulic pumping system with double concrete cylinders and double oil cylinders,
stable and reliable.
2.Hydraulic parts are famous brands from home and aboard with high and reliable quality.
Mixing system of hydraulic pump concrete mixer:
1.Double motors for mixer mixing with features of quick and homogeneous mixing.
2.Grinding wheels for mixing drum rotation, stable and reliable.
3.Vibrating device for aggregate complete discharging.
In general, our hydraulic pump concrete mixer can be motivated by electric or diesel, and our concrete mixer with pump has its own advantages and specialty. Electric or diesel concrete mixer with pump can be applied to varieties of construction projects to help you expand business scope. Concrete pump and mixer can transport concrete to places that labors or tractors have no access to, which is undoubtedly a good choice for the construction of civil house, water conservancy, rural roads and ground works.
Concrete mixer with pump is one of the most commonly seen machine in varieties of construction sites, and our concrete mixer pumps for sale are often employed to convey concrete with different specifications to the required sites, Cement mixer and pump also has large or small concrete pump with mixer, and users may choose the right model with specific production demand and users don't need to buy a single shaft or twin shaft mixer any more after buying a concrete mixer and pump and you also can choose rental concrete pump according to your situation.